Design target: to build a light weight robot arm for remote inspection and automation.

Specifications:
total length of the arm approx. 100cm.
able to grip and lift an object of 250grams in entire reach of the arm.
equipped with a HD webcam at arm's length.
portable: low weight, maximum approx 4kg.
transportable: should fit in a normal sized suitcase for easy air travel.
affordable: total cost of arm and controller: under € 3.000,=
....and this is it: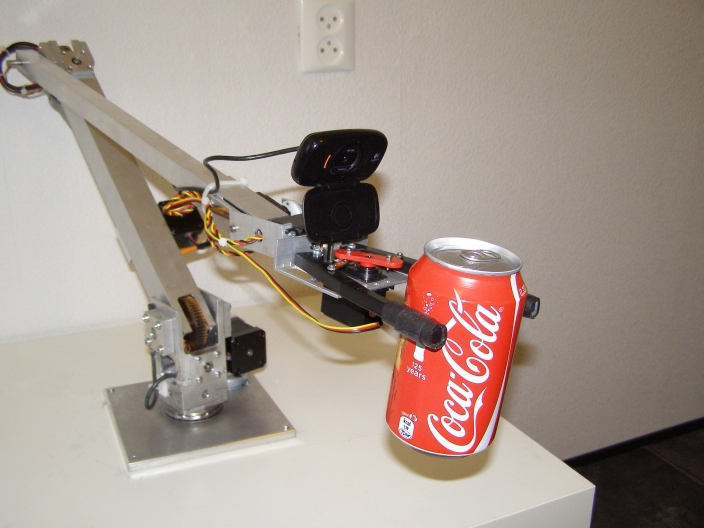 The arm is made from aluminium, with sturdy wormwheel drives. All arm joints are powered by stepper motors through timing belts for very accurate and repeatable movements, and all joints have ball bearings. The hand is powered by 3 servo's for pan, tilt and grip. A webcam is mounted just above the gripper, giving it a wide range of view and accurate positioning of the gripper.

Arm mounted on a table: picking up a full 330ml can of coke and dropping it in a box:

View from the arm mounted camera while handling the can:

The robot arm can be fitted in a
Peli Storm case iM2700
, measuring 625*500*218mm. The arm itself weighs approximately 3,5kg, the suitcase weighs 5kg. The Storm Case is watertight, very strong and has a pressure release valve. It will even float with all equipment inside!
Open the netbook PC and power-up the equipment: the arm will unfold itself, ready for action.

Using the arm to inspect an object: it lifts the camera about a meter higher than the table, makes a turn to look around, test its gripper and looks down and up at the inspected object. Then it returns to its suitcase.

View from the arm mounted camera while inspecting.....

The robot arm is controlled from a (netbook) PC through a USB port. The USB connects to an electronic control unit that was designed by Exatech bv specifically for the arm. It has outputs for 3 stepper motors and 4 servo motors, has inputs for end-switches, sensors and a joystick. The control unit can be DIN rail mounted and contains a powerful ARM-7 processor running at 48MHz.
Two RS485 ports are available, supporting Modbus communication over the external port while at the same time communicating with extension modules such as the DIN rail mounted ConSensus modules over the internal port.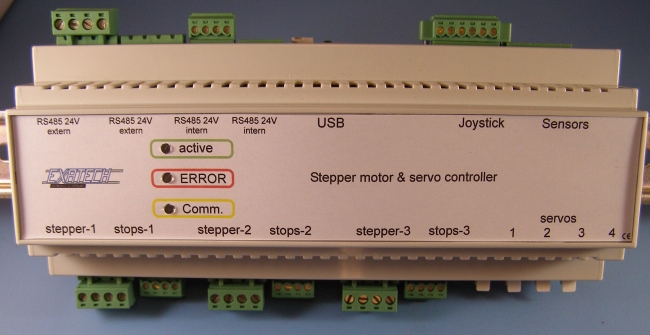 The arm has been made by Exatech bv, developers of electronic controllers and embedded software, to demonstrate the feasilibity of a low cost and light weight arm. We welcome any partnership or investor to bring the prototype to production and to develop applications for it. Possible fields of interest:
remote inspection.
mechanical test automation.
touch screen calibration.
wheel chair aid.
Please mail your inquiries to
info@exatech.nl
.
&nbsp